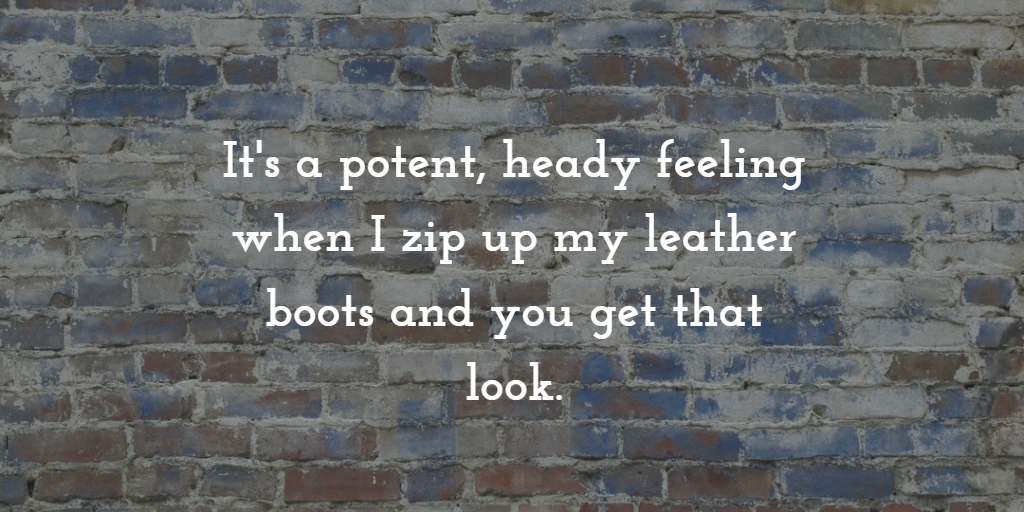 I need you to fuck me in a way that makes me want to shred your skin and bruise you. I want to see you vulnerable and helpless and there's the ache and the little niggling tinge of fear for me because to want something is to let yourself be open to the possibility of not having it.
I want to be able to just take you. And to make you perform for me. I want to lure you in, to learn where all your buttons are, so that I can push them at will. It's a potent, heady feeling when I zip up my leather boots and you get that look. Your tongue touches your lip and your eyes go unfocused and very focused all at once. If I could bottle that feeling, of knowing I've hypnotized you, I would. I could get drunk off it.
You know how it felt, putting your belt over your neck?  Looking at that band of black, bisecting your throat, book-ended by my curled fists holding it to the mattress? Lust. But the confidence you have to marshal up to put yourself out there, that takes being brave on my part. Not much of a come down from no. So much shyness on my side as well as I made you try the new sensation. What if you hated it?
It makes me wet to think about you helpless, but I need your consent. No, fuck that. I need your enthusiastic consent.
Every boy wants a dominant woman, you learn that pretty early. The belief that she knows what she wants, that hint of aggression and violence is catnip even to guys who think they are vanilla. But there's a trade off, boys get pretty fucking lazy about your sexuality. They're used to porn and pros, where she's only so dangerous , always offering a menu he can pick and chose from or a program, neatly planned.
It's either all in on his perfect fantasy, whether that is locked cocks forever or serving as someone's stud stallion; or reviewing a pro-dom's website and ticking off the boxes: smother me with your ass, slap me about but hold the cross dressing. It's not fake, per say, in that any pro-dom who can stay in business knows how to get in a man's head. And I can't fault porn for doing its job well.
You're not like that. You want to make me happy. Sure you like it when I zip into leather and I've learned a few of your other buttons. I'm good at turning people on- a part of this blog is the knack I have. But, I'm the one with the weird fetishes. Who's pretty much started to believe that most men want to want a dominant way more than they want to have her.
A million blog posts and are extant on sweet talking a missus into a mistress, and here I am, trying to figure out how to fit you into my sexuality with the same sort of gung ho enthusiasm I have trying to cram the entirety of your cock down my throat.  You're too big to swallow but I want it and I get what I want. I'm going to work up to it.
We trade what we can over video and pictures. I tease you with a little pleather dress that cost me $22 at Forever21 (They're having a grunge/goth revival, all the stuff that was in when I was in highschool). You send me snapshots of your hand wet with your cum, I debate prying a little into that- I'm almost disappointed when you finish yourself,  unseen and un-commented on because I want to tease you more. That moment just before you come is when I feel the most power.
I've gone claw the drapes crazy over you, but it doesn't make me submissive. Doesn't even box me back into vanilla, not that I've ever been there. So yeah, you said you want me. I told you the whole of the deal, how I want to hurt you and own you. I'm both complicated and easy going enough that it isn't automatic slave contracts and collars, though sometimes I wonder if this would be easier if I just had an uncompromising menu instead of this crawl-into-your-head-and-control it thing the sexuality fairies gave me.
Oh god. I need your desire.  It's the best thing, the drug I'm hooked on, filling you up with want, and draining it from you. I want you utterly helpless.
You know that moment when you are most attractive to me is moments before you come and you're opened up and really feel it when I call you my slut? Sure the sex is good, feeling your body slam into mine, sure I scream because it feels amazing. When I come with you it's this odd vulnerable makes me feel all small and sometimes you saw I cried a bit.
Because it's hard to want something this much.  Not just your cock, although that's plenty nice, but to have you.  And have you want the entirety of me, not as things you have to make concessions to, but are excited about.
It's really scary. Also I really, really need to get fucked.