Silver is, among many things, my muse. Lurid and vivid sexual creativity was one of the gifts the fae left for my birth, and love makes me into a better artist.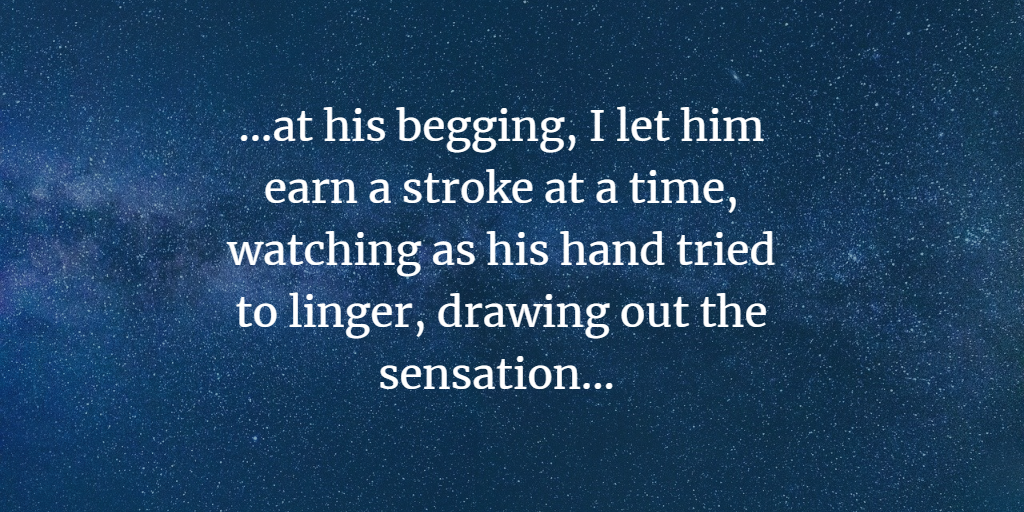 Every Sunday, minus when he was road tripping to family, or those weekends we managed an in person park picnic, we have Sunday Worship, aka furious mutual masturbation over webcam, aided by teledildonics via the good people at Lovense, and the quieter cooperation of the manufacturers of the Pavlok.
This particular weekend, a Hush was buried in his ass and the app hooked to my phone so he could experience vibrations entirely under my control. I was squeezed into a blue latex number that didn't just hit him in the fetishes, but punched the target through the wall. It also appealed to me on two axises of desire: my long standing teasing kink (Mercy Maria uses pro-domme work to get herself a reverse harem, I seriously consider stripping as a sexual outlet), and my newly discovered interest in the medium of rubber clothing, itself.
And regardless of the props or where I decide we go this time, my mouth is always spinning out filth: alluring, lewd and descriptive. I'm privately very self critical of my abilities as a hypnosis mistress, but I do have a gift for the erotic gab, and Silver was enraptured at my crooning and storytelling.
The fantasy I almost made Silver hands free cum to last Sunday was telling him about sharing him out to my domme friends. It wasn't the detail of hands touching, the excess or the cruelties. It was describing him earnestly looking to me, to be sure he was serving them properly, like I wanted.
It's that "you endure what they, do but you know it's all about your Miss" that gets him so bad.
Ultimately Silver is a romantic, in that he doesn't want to serve any random domme, regardless of having certain aesthetic fetishes. He wants that connection to one person. I don't think I can fully express how sweet that is.
When he is screaming in mixture of lust and distress because he thinks he is about to cum without permission, well… that's really gilding the lily.
I am also very big on the intimacy of a singular "person". I fail at "proper" poly, although I can do some group activities just fine, but the idealized network of loves and separations of relationships in one's sexuality just… does not work for me. I fall in love and that person is writ large in the sky.
Silver. Silver. Silver. I actually slipped into love more gently than with anyone so far. I am lucky about his amiable patience with my slower roll to "commitment", but in turn it was not quite the same 2 by 4 to the face that some of the past experiences were, and yet… I prefer coming to love him slowly. I prefer the crush kindled as a certain warm affection that grew and grew until the hearth of my heart was lit bright and hot.
Read more